This Is brians Story Family.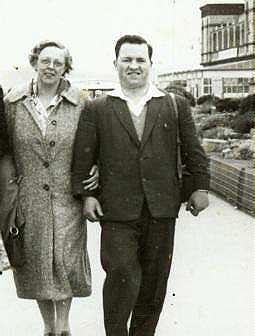 Brian and his wife Ella
Brian was born in Dublin on 12th December 1935. He served his time as a Chef before moving to England where he spent the rest of his life.

Brian worked for many years with British Rail and was ticket inspector on the Luton to London line until his retirement.

Brian met and married Ella who was several years older than Brian but they were very happy together. Ella died some years before Brian. Brian developed Diabetes and had a leg amputated in 1995 and basically because of his 20 stone weight could not manage without a wheelchair. Brian went to a nursing home in January 2000 as his remaining leg was developing problems. As Brian lived alone could not manage himself. Brian died of a heart attack the following month February 2000 and is buried with Ella in Manchester.
return to Index page